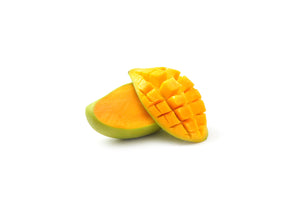 Harumanis Mango (Indonesia) 芳香芒果
Regular price
$8.00
Sale price
$3.00
---
Shelf Life: 5 Days

How to Eat Harumanis Mango:
Harumanis mangoes are a sweet and fragrant variety of mango. Here's how to eat them, their benefits, and how to keep them fresh:
Ready to eat Harumanis Mangoes:

Look for mangoes that are slightly soft to the touch, but not mushy.
Harum Manis mangoes should have a distinct fragrant smell at the stem end when they are ripe.



Washing:

Rinse the mango under cool running water to remove any dirt or residues.



Peeling and Slicing:

Stand the mango on its end, and slice off the flesh on either side of the flat seed in the middle.
Score the flesh with a knife in a crosshatch pattern, but be careful not to cut through the skin.
Invert the mango half, pushing the skin upwards so that the cubes pop out and can be easily eaten.



Enjoying Fresh:

You can eat the mango slices fresh as a snack, add them to fruit salads, or use them in smoothies and desserts.
The sweet, juicy flesh is a delightful treat on its own.
Benefits of Eating Harum Manis Mango:
High in Vitamins: Mangoes, including Harum Manis, are rich in vitamins C and A, which support a healthy immune system and promote good vision.

Dietary Fiber: Mangoes provide dietary fiber, which aids in digestion and helps regulate blood sugar levels.

Antioxidants: Mangoes contain antioxidants such as quercetin, beta-carotene, and other compounds that help protect cells from damage caused by free radicals.

Hydration: Mangoes have a high water content, which helps keep you hydrated, especially in hot weather.

Skin Health: The vitamins and antioxidants in mangoes may contribute to healthier skin and a radiant complexion.
How to Keep Harum Manis Mangoes Fresh:
To keep Harum Manis mangoes fresh:
Ripening: If the mangoes are not yet ripe, you can ripen them at room temperature in a paper bag. Adding an apple or banana to the bag can speed up the ripening process as these fruits release ethylene gas.

Refrigeration: Once ripe, store the mangoes in the refrigerator to slow down ripening and extend their shelf life. However, the flavor is best when eaten fresh.

Prevent Bruising: Handle the mangoes gently to prevent bruising, as they are delicate fruits.

Freezing: If you have extra mangoes, you can peel and slice the flesh, then freeze it in an airtight container for later use in smoothies or recipes.
Harum Manis mangoes are a delicious tropical fruit with a sweet, aromatic flavor. Enjoy them fresh or incorporate them into a variety of dishes to savor their delectable taste and the health benefits they offer.